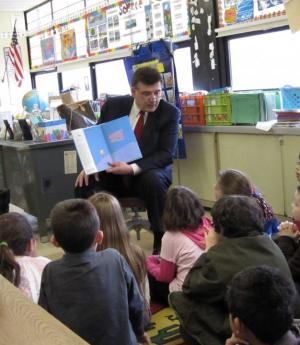 Fought for legislation that helped make Massachusetts No. 1 in student achievement.
Fought to secure more than $603 million dollars for 42 school construction and renovation projects in the district.
Successfully fought for funding to construct a state-of-the-art Math & Science Center at Bridgewater State University.
Fought to expand opportunities for higher education by playing a major role in the establishment of one, central Bristol Community College location in downtown Taunton, as well as in the expansion of Massasoit Community College in downtown Middleboro.
Successfully fought to help establish the state's first public law school at UMass Dartmouth.
Fought for the passage of strong anti-bullying legislation and funding for suicide prevention programs.
Fought for and supports legislation that establishes a universal pre-kindergarten program.
Fought to secure funding for early intervention, head start and after school programs.
Supported legislation that authorizes spending on improved information technology equipment to help Massachusetts compete in the 21st century economy.
Supported fiscal 2015 budget which included $945.8 million to Unrestricted General Government Aid (UGGA) and $4.4 billion for Chapter 70, after boosting investments in these areas in the fiscal 2014 budget.
Supported funding that has allowed University of Massachusetts to freeze tuition and fees for two years.
Supported added Regional School Transportation funding.
Supported legislation to address deferred maintenance at state universities and community colleges in the Commonwealth.
Supported funding for a grant program to vocational schools and community colleges to prepare students for 21st century jobs.
Supported legislation that promotes a successful learning environment for individuals with autism or a developmental disability in the Commonwealth.
Supported legislation to bolster the public school district broadband access improvement grant program.
Supported legislation to update the state's anti-bullying law to better protect vulnerable students across the Commonwealth.
Supported legislation to help students prepare for college and higher education after high school.
Supported the establishment of the Early Education and Out of School Time Capital Fund to give grants to nonprofit childcare organizations to make capital improvements to facilities.
Fought to increase the head start capacity and to allow for greater separation for animals as part of bio-security protocol of the Natural Resources Management Program at Bristol County Agricultural High School.
Fought to support the creation of an Eastern Regional Center for Urban Sustainability at Bristol County Agricultural High School.
Fought for the creation of a UMASS Cranberry Research Station in East Wareham
Fought to keep Bristol Law Library in Taunton open.
Fought for the creation of an energy efficiency and clean energy bond program to help retrofit schools in Massachusetts to cut back on energy costs.
Fought to promote the safety of schoolchildren on school buses.
Fought to promote citizen service through a Commonwealth Student Corps that would connect supervised students with professionals in order to address societal needs.
Supported funding to improve early education and after school activities for low-income children at statewide facilities.
Supported added funding for special education in the Commonwealth.
Fought for $2 billion in needed capital improvements to public colleges and universities by supporting the passage of the Higher Education Bond Bill, which also created hundreds of jobs.
Fought to secure funding for early intervention, head start and after school programs.
Fought for the passage of historic legislation that re-organized the state's educational system, thereby increasing efficiency and improving the quality of education throughout the Commonwealth.