Join Us Sunday, December 29th For a Holiday Brunch
I hope you will be able to join me for a special Holiday Brunch, Sunday, December 29, 2019 from 11am-1pm at the District Center for the Arts on 15 Court Street, Taunton.
Brunch will be served by Paiva's Catering featuring steamship roast beef.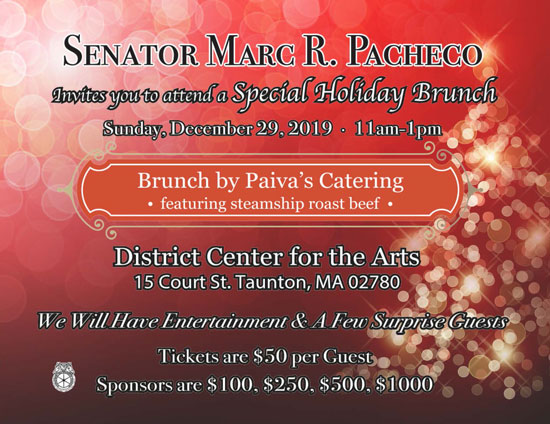 If you need further information, are interested in attending or would like to purchase tickets please call the Marc Pacheco Committee at 508-880-6272, RSVP by email at Senatorpacheco@gmail.com or forward your donation with check to the Marc Pacheco Committee, 7 Dartmouth Street, Taunton, MA 02780.
Look forward to seeing you on December 29th!
Please make checks payable to The Marc Pacheco Committee. MA Regulations set the
maximum contribution for individuals to a limit of $1,000. Public employees may buy
tickets but are prohibited from selling tickets. Maximum for Registered Lobbyist is $200.
MA law prohibits the acceptance of corporate checks